New to Drip? You may qualify for our Free Migration Service offering. To learn more about migrating to Drip and schedule your Free Migration click here. Prefer to migrate on your own? Here's our guide to help navigate you through every step along the way: Migrate to Drip.

You'll see your account dashboard on your homepage every time you log in. It keeps you up to date with key metrics of your marketing in Drip. Be sure to install your JavaScript snippet so that your dashboard can accurately report back your analytics.
Learn more about how to connect your e-commerce platform with our Integrate with Drip guide.
Looking to get started with Integrations?
Single Email Campaigns
Build a Single Email Campaign email with the Visual or Text Builder, then send it to a segment or to your entire list. Single Email Campaigns are a great way to send segmented promotional emails and generate revenue. With our resend to unopened feature, you can target people on your list and engage them.
Learn how to send a segmented promotional email in our Send a Segmented Promotional Email guide.
Personalization Tips
Collect additional information about your people with the use of an Onsite Campaign! Once collected, you could leverage these insights within Segments to make sure you are providing relevant information to the right people:
Email Series Campaigns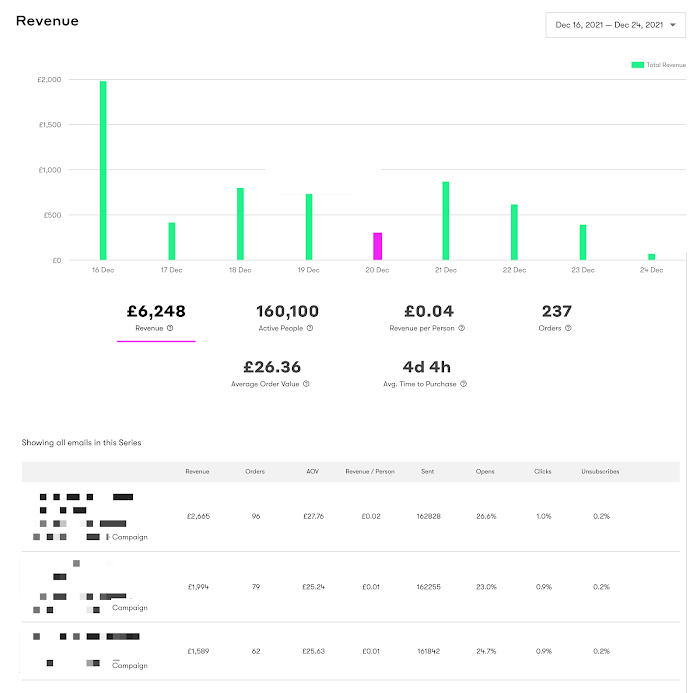 Create, launch, and track analytics and revenue for your Email Series in Drip. The Email Series Dashboard lets you track the level of engagement for each email series, and the Revenue Dashboard lets you track exactly how much you earned from that email series, all under the Campaigns tab in your account.
People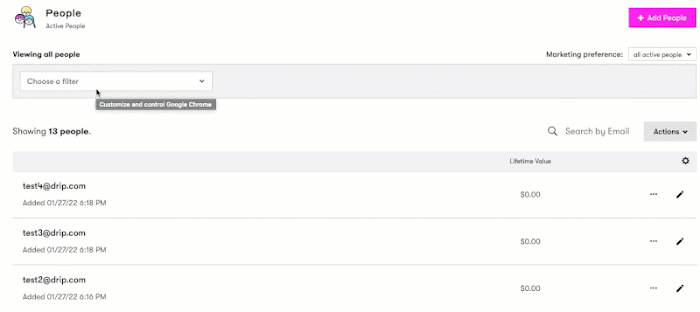 Under the People tab, you can add people, search, filter, and create broad or niche segments of people on your list. Segments allow you to create meaningful groups of people based on what they're doing, like opening an email, visiting a page, downloading an ebook, or buying a product. You can segment the people on your list by tags or custom fields, and manage them under the People tab.
Onsite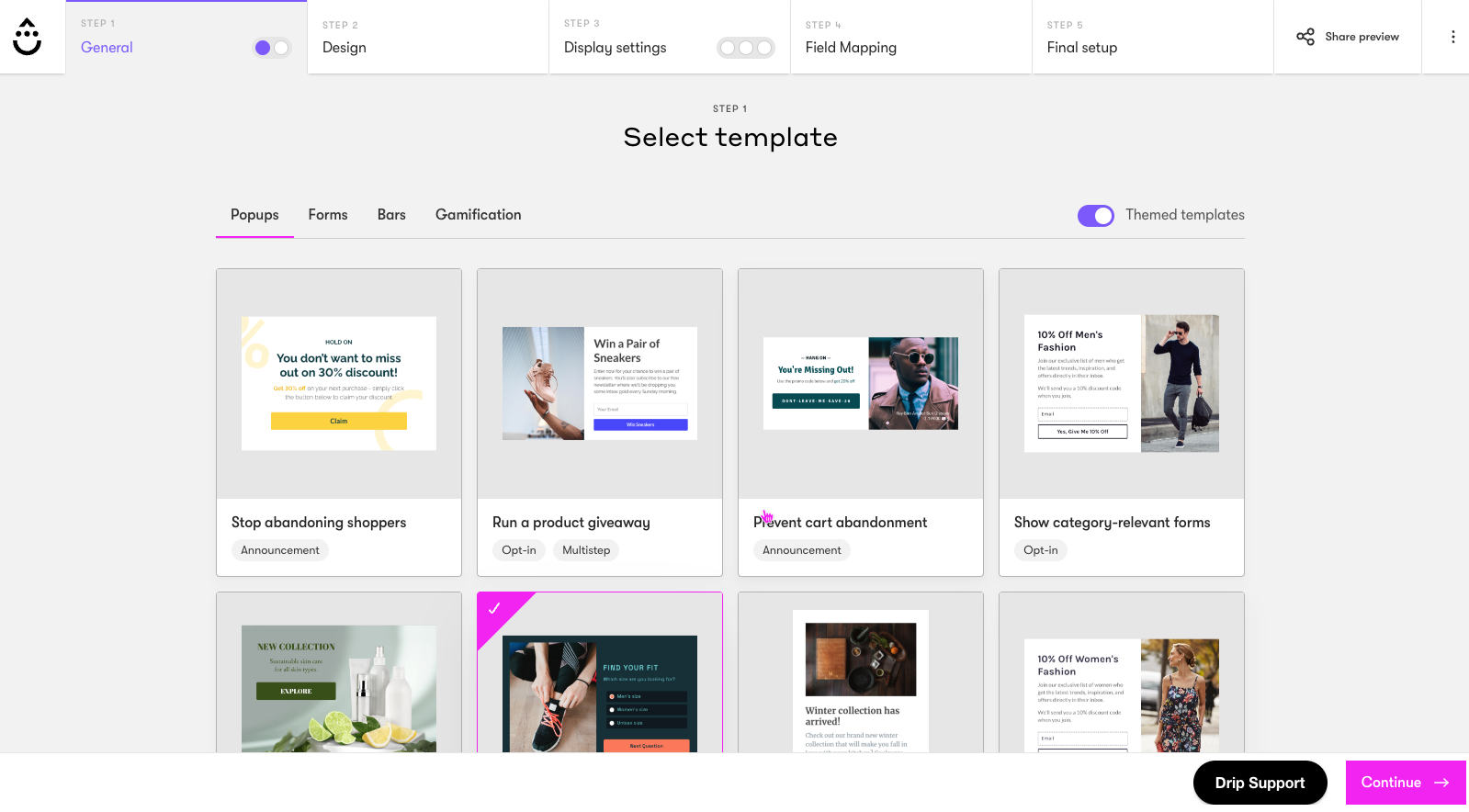 Onsite campaigns help you leverage your store traffic with targeted forms, quizzes, and gamification.

With Onsite, you can:
Grow your list without hurting the user experience,

Assist customers around your store,

Collect post-purchase feedback,

And much more.



Create a new Onsite Campaign by navigating to Onsite under the Campaigns tab.
Learn all about how Onsite Campaigns work by starting with this Help Center article
Automations
In Drip, Automations do all the heavy lifting of your marketing for you. Drip's automation features will handle everything from your most basic task to your most complex.
Ready to automate some actions? Check out these articles to start:
Have an RSS Feed? Click here to learn more about this

feature:

RSS-To-Email
Personalization Tips
Check out our step-by-step guides for some of the most commonly used Premade Workflows such as:
Analytics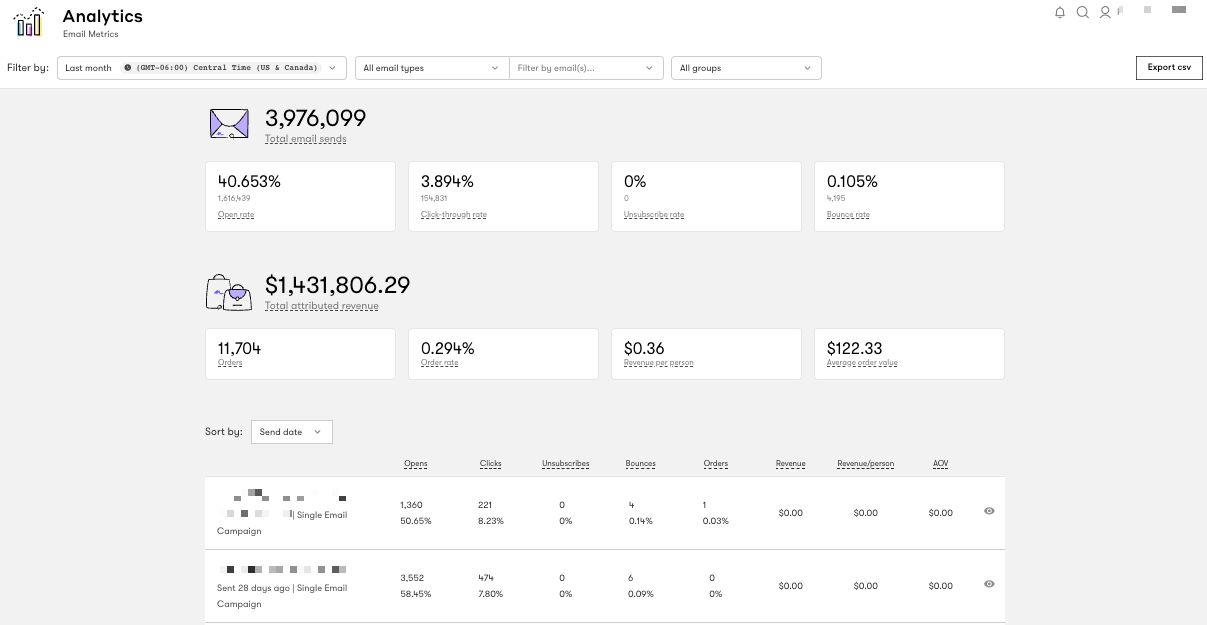 The Analytics tab houses a variety of reports and metrics you can use to measure the impact your work in Drip has on your customers and business. Here you can view consolidated Email Metrics and easily export key metrics for your reporting. You can also view Click Reports, Subscribed People, and the New People Report.