If you send emails to your customers, you need to ensure that you're collecting the proper consent. Asking people if they want to receive marketing emails from you is one of the most important parts of email marketing. Luckily, Drip makes this easy for WooCommerce & Shopify merchants. In this guide, we'll teach you how to add a subscribe option to your Shopify and WooCommerce checkout page.
WooCommerce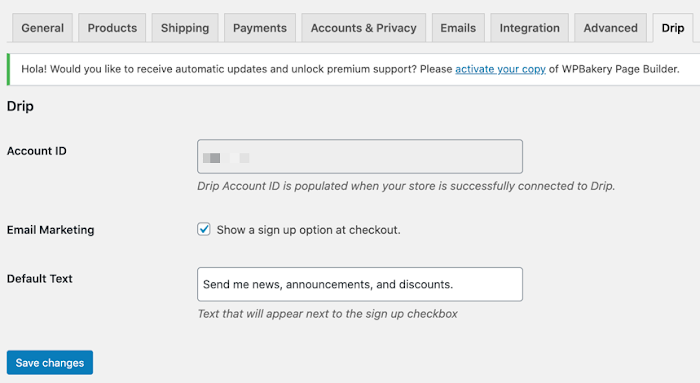 After you install the Drip for WooCommerce plugin, Drip provides a "Subscribe to marketing email" option in your WooCommerce settings. When a customer ticks this box during their checkout process, they'll be subscribed to marketing emails in Drip so you can send them commercial email.
To add a "Subscribe to marketing email" option on your checkout page:
Navigate to your WooCommerce admin

Go to WooCommerce > Settings > Drip

Check the email marketing box to show a signup option at checkout

Edit the text that will appear next to the signup checkbox in WooCommerce

Click Save changes and your checkout page will update
When someone purchases something from your store and checks this box, they will be added to Drip and their email preference will be set as subscribed to marketing email. If someone does not select this box, they will be added to Drip and their email preference will be set as unsubscribed to marketing email.
Shopify
Log into your Shopify admin and go to Store Settings to confirm that the subscribe to marketing email option is turned on.
Navigate to your Shopify admin page

Go to Settings on the bottom-left corner of the page

Under Checkout scroll to the Marketing options section to view the opt-in options

Select the Email option to show a sign-up option at checkout

Lastly, click Preselect the sign-up option to automatically opt people in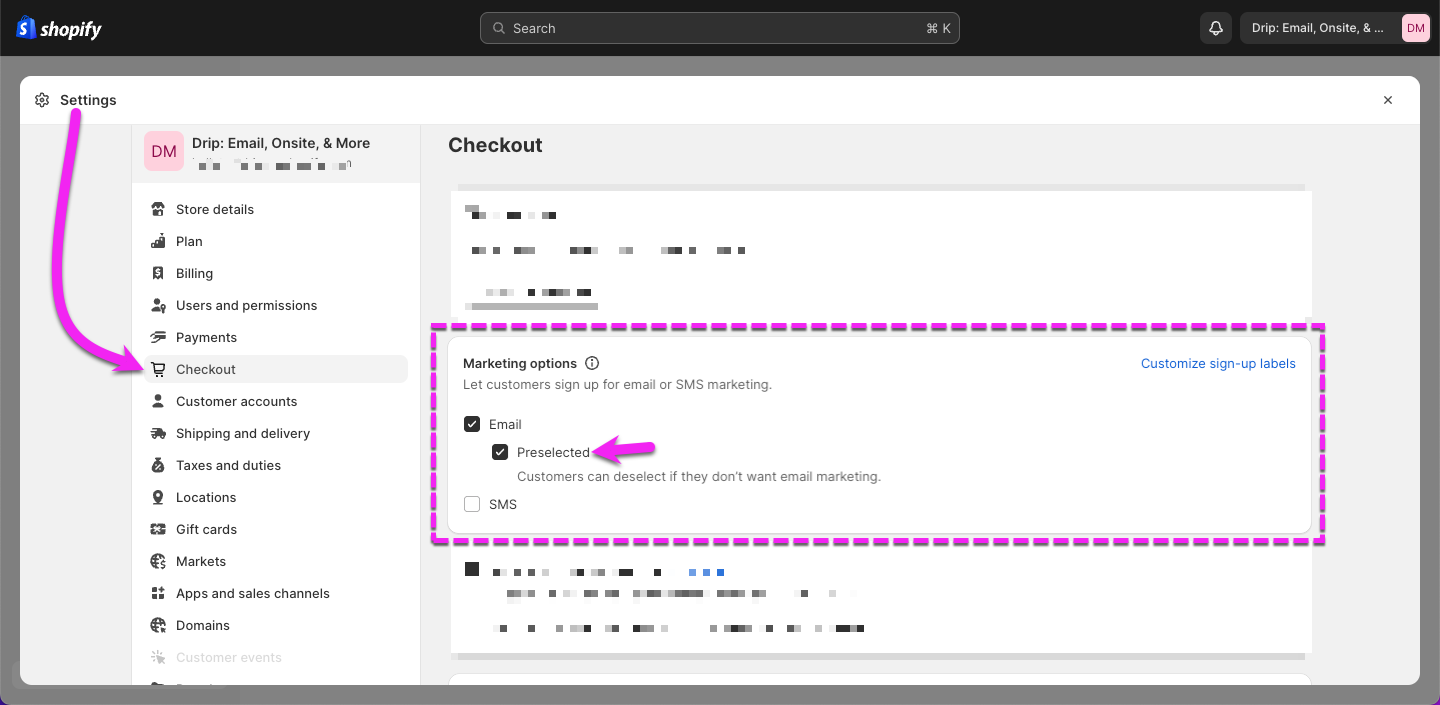 You'll have a preselected signup option on your checkout page so you can get marketing consent from your customers when they purchase from you. This makes it even easier for you to market to anyone buying from your store.
That's it. These simple steps are all you need to start collecting marketing consent from customers. When someone selects the signup option during checkout, their information will seamlessly show up in Drip. And you can rest assured that you have the proper consent from people who want to hear from you.