Connect Your Store to Drip
Drip does not change any of your Shopify data, start automated emails, or end your trial early.
With Drip, you can easily connect your Shopify store in just a few clicks:
Log in to your Drip account
Click on Settings in the lower-left corner in-app
Select Integrations and choose Shopify
Click "Get the Drip app for Shopify"
Click Install
Enter your Shopify store

credentials

Click Install app
Choose which Drip account you want to link with your Shopify store
The integration will start syncing. A success message will appear on the Shopify Integrations page in Drip when your store is connected. Once the sync is complete, your customer list, orders, and products will be synced to Drip.
It can take up to 24 hours for products to fully sync to Drip and be accessible in product blocks for emails.
Understand Customer Status
When you integrate your Shopify store with Drip, some important data you've collected through your store automatically gets synced over to your Drip account.
This data import includes your store's:
In addition to syncing your Shopify customers, Drip automatically performs the following tasks for you:
Installs your Drip JavaScript snippet into your store's theme.
Installs a JavaScript snippet to track product views.
Drip creates a new profile for each Shopify customer with an email address that doesn't already exist in your account.
When you integrate your Shopify store, all existing customers with email addresses will be synced to Drip and your Drip billing will increase based on the number of customers synced.
When a Shopify customer is sent to Drip, their subscription status is set in accordance with their choice to accept marketing. This preference is managed by the customer while entering their contact information during checkout:

If a Shopify customer's email address doesn't exist in Drip, a Drip person will be created. Their status will be set to Active if Shopify has them set to accept email marketing. If they are not set to accept email marketing, their Drip status will be set to Unsubscribed.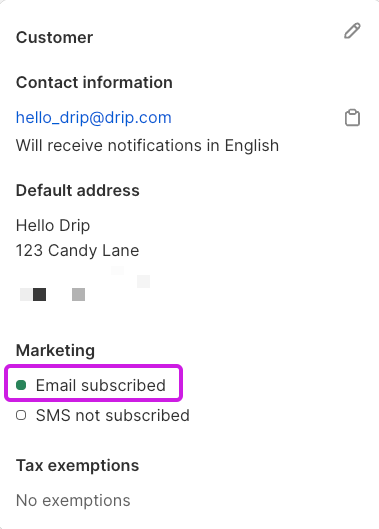 If an existing person with an email address of john.doe@drip.com unsubscribes from your Drip account, Shopify's "Accepts Marketing" value for that email address is updated accordingly.

If john.doe@drip.com resubscribes to your Drip account, Shopify's "Accepts Marketing" field is updated to reflect that status

If you delete a person in Drip, they will be deleted in Drip only. If you delete a person in Shopify, they will be deleted in Shopify only.
Shopify Data in Drip
The more you know about the people shopping at your store, the better you'll be able to engage with them in a more meaningful way. When you integrate your store, Shopify sends the following datasets to Drip:
Each customer from your Shopify account gets added as a new person on your list. Included with each new person is their first and last name and order history (when that information is available).
Segmentation

Create a more individualized shopping experience to boost customer engagement and drive more sales using Segmentation. With the data you collect from your store, you can find groups of people that have shown the following commonalities in the way they shop:
Order frequency
Order infrequency
Products purchased
Price range/quantity of products purchased
Viewed products
With segmentation, you can use that information to better target the right people for certain emails.
Automation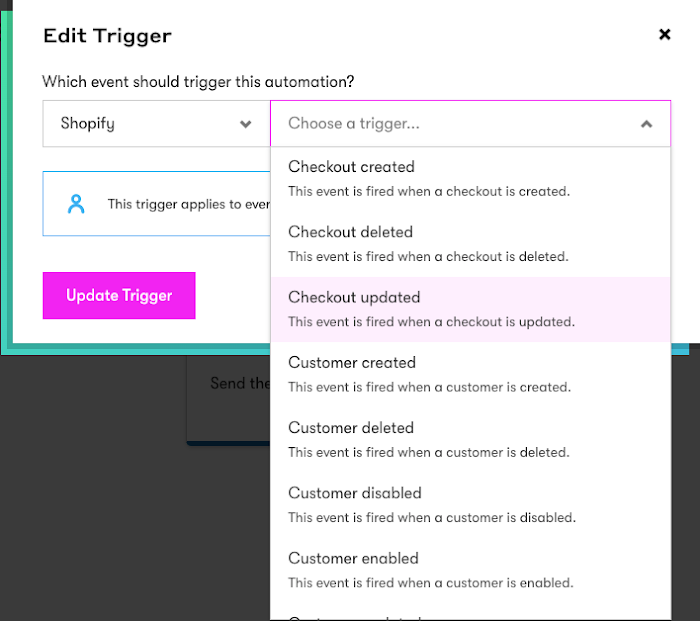 Everyone shops a bit differently. Some might buy right away, but many others load up their carts only to abandon them before finishing the transaction. As an online storefront, it's nearly impossible to interact with those shoppers face-to-face to give them the nudge they need to buy.
With automation, you'll know when someone makes a purchase, views a product, starts a checkout, or abandons their cart altogether. That gives you the opportunity to follow up with those shoppers and encourage them to return to their carts. Apply tags to segment those shoppers and send them reminder emails with product images and calls to action that links back to their carts or certain product they've browsed.
For ideas on how your Shopify integrations can start to look, feel free to install one of our Pre-built workflows and check out our How-to Guides such as:
Track Revenue Earned by Drip Emails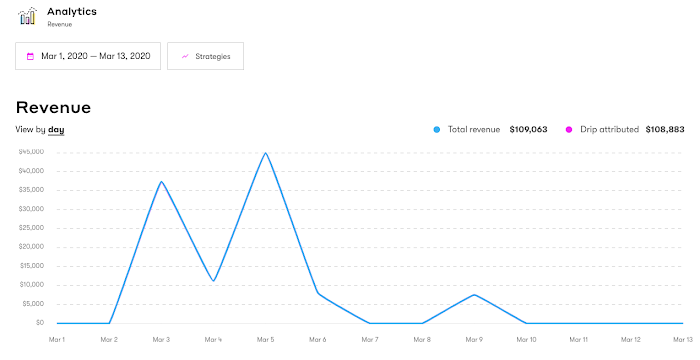 Through revenue attribution, earnings from individual emails can be tracked. If certain criteria are met, revenue is attributed to an email. Your account dashboard displays revenue earned by Drip each time you log in.