Getting one-time purchasers to become repeat-purchasers is like solving a complex math problem. It requires a lot of your time, effort, and focus. For ecommerce marketers, this is a problem worth solving. And we're here to help you solve it. To turn one-time purchasers into repeat buyers, have a post-first purchase strategy in place.
A successful first-purchase experience significantly increases the likelihood of a second purchase. Retaining customers is five times cheaper than acquiring new ones. Once you solve this equation, you unlock the path to growth and customer loyalty.
In this guide, we'll show you how to activate your Post-First Purchase Workflow and welcome customers who just made their first purchase from you.
Before You Get Started
Before we dive in, we've taken care of a few things for you:
This workflow is for people who make their first purchase.

Delays are pre-set so people hear from you at the right time. This Workflow assumes that it's no longer than 14 days between ordering and receiving a product. If your shipping time is longer than that, increase your 14-day delay to account for that.

We include email content to help you get started and give you an idea of what to include in your emails.


Install Your Workflow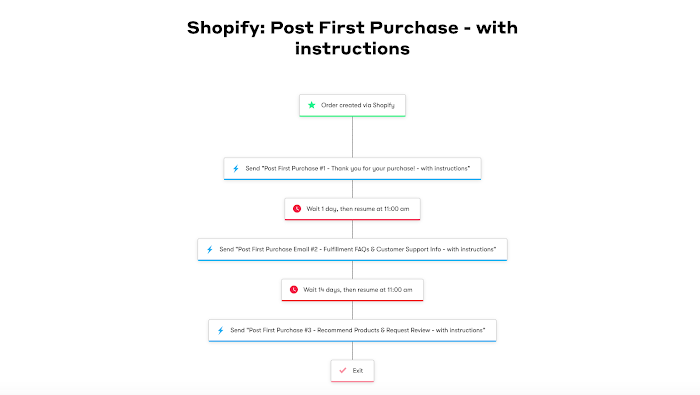 Install one of our pre-built Workflows to get started. Our pre-built Workflows have Triggers already defined to work with your ecommerce platform and include recommended Action and Delay steps.
All you need to do before you activate this Workflow is update your emails to match your brand.
Create Your Emails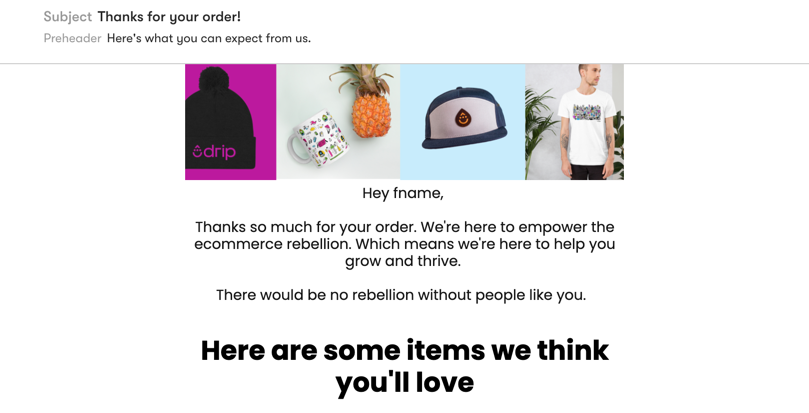 The Post-First Purchase Workflow comes with three emails:
Email #1: Thanks for becoming a customer!

Email #2: Fulfillment FAQs & customer support info

Email #3: Recommend products & request review
To update your emails click on the email action node, then select "edit email" to hop into the Visual Email Builder. First things first, make this email match your brand.
Add your header logo.

Edit the font and button colors under settings and default styles.
Second, write a subject line and email copy in your brand voice.
We include instructions on the type of content to include in each email.

Pro tip : put yourself in the shoes of your customer. Think about what kind of content would help them feel special, confident, and excited to purchase from you again in the future.
Third, add any images or dynamic content blocks that you want to include in these emails.
Pro tip : include a "recommended product block" in your third email to get people interested in their next purchase.
Once your emails are written and tested and this 'flow is looking good, toggle your Workflow ON to start thanking those first-time purchasers!
Helpful Tips
Here are some helpful tips about Workflows:
Triggers are forward-facing. If you activate this Workflow today, people who made a purchase yesterday will not enter it.

Goals pull people down past any remaining steps and to the exit. If someone makes a purchase while they're in this 'flow, they'll hit the Order Created goal at the bottom of the Workflow. This ensures that your customers won't receive any messaging that's not relevant to them anymore after making their purchase.

People can only be in a Workflow at one time—so don't worry about them entering this Workflow once they're already in it.

After someone exits, they're eligible to re-enter the Workflow.