Give your repeat purchasers some extra love with our Post Repeat Purchase Workflow. Follow-up with people after they make their 2nd, 3rd and 4th purchases to make sure that they feel appreciated. Keep them coming back for years to come!
Before You Get Started
Before we dive in, we've taken care of a few things for you:
This Workflow is set to trigger when your people make their 2nd, 3rd, and 4th purchases.

For this 'flow, you only need triggers, emails, and exits—simple!

We include instructional email content to help you get started and give you an idea of what to include in your emails.

Install Your Workflow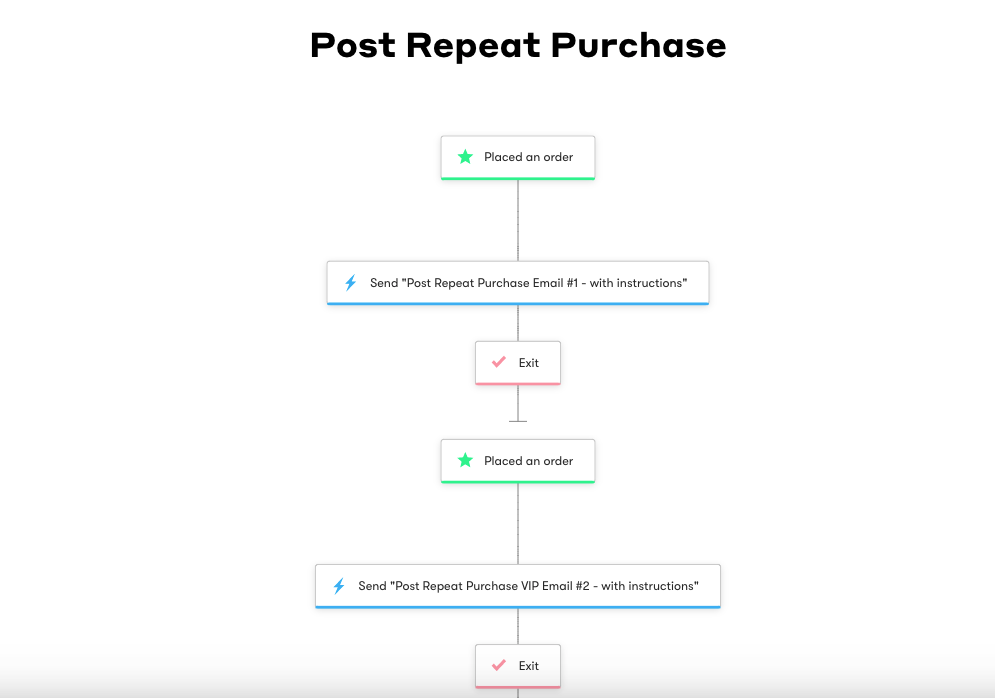 Install a pre-built Workflow into your Drip account based on your ecommerce provider:
Create Your Emails
The Post Repeat Purchase Workflow comes with 3 emails:
Email #1 (Triggered on their 2nd purchase): Thank them for their second purchaser and recommend related product with a dynamic product block.

Email #2 (Triggered on their 3rd purchase): Encourage repeat purchasers to share your products on social.

Email #3 (Triggered on their 4th purchase): Get feedback from your loyal customers.
All you need to do before you activate your Workflow is craft your emails.
To update your emails click on the email action node, then select Edit Email to hop into the Visual Email Builder. First things first, make this email match your brand.
Add your header logo—and link it to your website.

Edit the font and button colors under settings and default styles.
Second, write a subject line and email copy in your brand voice.
Put yourself in your customer's shoes. Think about what kind of content would help them really feel like they're part of the family. Repeat purchasers are critical to the health of your business, and you should speak to them differently than a new person who is just browsing.
Finally, add any images that you want in your emails.
Pro tip : Link them to your website so people can click through.
Remember, the most important thing is to get this simple version activated quickly. You can always come back and add additional nodes like delays and emails to request reviews. But for now, just activate it!
Once your emails are written and tested and this 'flow is looking good, toggle your Workflow ON and show your repeat purchasers some love!

Set up a Win-Back Workflow to re-engage customers who don't purchase again after a while. Some folks just need an extra nudge to get back into the buying spirit.