The Active tab displays the Active people in your account.
The following information or features are available:
Add people
View Lifetime Value
Export as a CSV file
Search for an email address
Filter People
View a person's activity feed
Merge, Delete, and Deactivate People
Perform a Bulk Operation
With Active people, you can engage with your customers through
Hyper-personalized transactional emails
Multichannel Workflows
Social media retargeting (Facebook and Instagram)
Third-party integrations like SMS and direct mail for all people
Active People Filters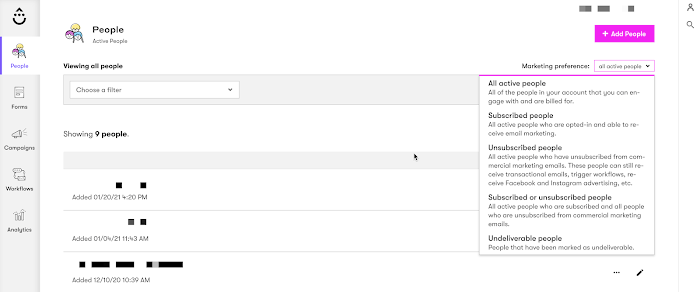 Select a filter from the drop-down to refine the list of Active people in your account. Below is a description of each of the Active people filters.
All active people: All of the people in your account who you can engage with and are billed for.

Subscribed people: All active people who are opted-in and able to receive email marketing.

Unsubscribed people: All active people who have unsubscribed from commercial marketing emails. These people can still receive transactional emails, trigger workflows, receive Facebook and Instagram advertising, etc.

Subscribed or unsubscribed people: All active people who are subscribed and all people who are unsubscribed from commercial marketing emails.

Undeliverable people: People who have been marked as undeliverable.
Manually Move from Active to Inactive
Manually move people or a person from Active to Inactive with an action in a Bulk Operation, Workflow, or Rule.
When you change an Active person to an Inactive person, you can no longer utilize the following features.
Engage with the person via transactional or marketing emails
Record new events, orders, LTV, etc.
Add them to Facebook Custom Audiences or other third-party applications
Trigger Automations, i.e. Rules and Workflows
Delete an Active Person
Delete an Active person with an action in a Bulk Operation, Workflow, or Rule. When you delete an Active person they are removed from your account with all of their data.
Export a CSV File of All Active People
Active people exports include the following data:
Token
Email address
Time zone
Status
Created at date
Confirmed at date
Tags
Custom fields
Campaigns
Referrer
Landing URL
IP address
Lead score
Lifetime value
User ID
To export a CSV of all active people:
Go to People > Active
Click Actions > Export to CSV
Click Okay
Once we're finished preparing your export, we'll send the CSV to the email address listed under Settings > User Settings. If you don't receive an email right away, try checking your spam folders. If the email isn't in your spam folders, reach out to Drip Support.