Migrate your List
The first step in migrating to Drip is importing your people list! You can add people by uploading a list in a CSV format, enter a list of emails, or automatically import people when you connect an integration. Let's dive in!
Manually import your list via CSV
Drip imports require a CSV format. When exporting your previous platform's list, choose the option to export as a CSV, if possible. Before importing this CSV into your Drip account, make sure your headers are formatted to meet Drip's requirements by opening the file with a spreadsheet platform like Google Sheets or Microsoft Excel. Once you have that done, save your CSV file, and you're ready to import the list to Drip by following the below steps:
Log into your Drip account and navigate to the People > Active page
Click + Create > Add people then Upload a list of people > Begin
Upload or drag the CSV file that you just saved, and you'll see a preview of your list with the column headers. Turn ON

the option to treat the first row in your file as headers to ensure all of your data is imported seamlessly, and make any final modifications to the headers.

If you are importing your lists in specific groups at a time, you can apply a tag to these people in order to identify them in Segments later.



If you are l

ooking to Import a specific Subscribed or unsubscribed list, you can follow the instructions here. You can also import people as either Active or Inactive. Inactive people do not count towards your billing statement. To learn more about how your monthly bill is calculated here.
Click Done
You'll see all of the people you just imported under the People tab in Drip. If you have multiple lists of people, you can repeat these steps for each list that you have inside of your previous platform.
When uploading your CSV file, ensure that the 'email' header is correctly placed over the email column to successfully import your people list
Manually add people with a list of emails
If you would like to add people without utilizing a CSV file you can choose the option to enter a list of people by following the below steps:
In your Drip account navigate to the People > Active page
Click + Create > Add people
Choose Upload a list of people > Begin
Import your people list with an integration
Some integrations will automatically upload your people list when you integrate with the platform. For example, when you integrate with your Shopify, BigCommerce or WooCommerce store, you will see your customer list synced to Drip!
Migrate your Email Templates
We know how important it is to keep a consistent look for your brand! Drip's Visual Email Builder is here to help you recreate the look and feel that your customers know and love.
Familiarize yourself with Drip's Visual Email Builder by using your previous emails as a guide to recreate the look and feel that your customers know and love.
With your previous template up as a reference, in a separate tab:
Log into Drip in another tab and go to Campaigns > Email Templates
Click + Start from scratch and copy and paste the name of the Template you want to migrate over to Drip

Click Create Template
Now you're in the Visual Email Builder, where you can start adding content to shape your Builder Layout.
Migrate your Forms into Drip with Onsite
Onsite is Drip's product that lets you create fully customized forms, popups, quizzes, and more for your website—without any coding or third-party tools needed.
Now that you have created your Drip account, you can recreate any current opt-in forms or discover and create new Onsite Campaigns by navigating to Campaigns > Onsite in your Drip account. Click + New onsite campaign and follow the steps in this article to help guide you through building your forms in the Onsite builder.
Please note: You are not able to connect existing third-party forms to Onsite Campaigns
Migrate your Customer Segments
Utilize Saved Segments to recreate filtered lists based on matching criteria ranging from email activity, applied tags/custom fields, and/or marketing preferences (active, subscribed, unsubscribed, etc.).
Segments are dynamic and will add or remove people from the list based on whether or not they meet the requirements.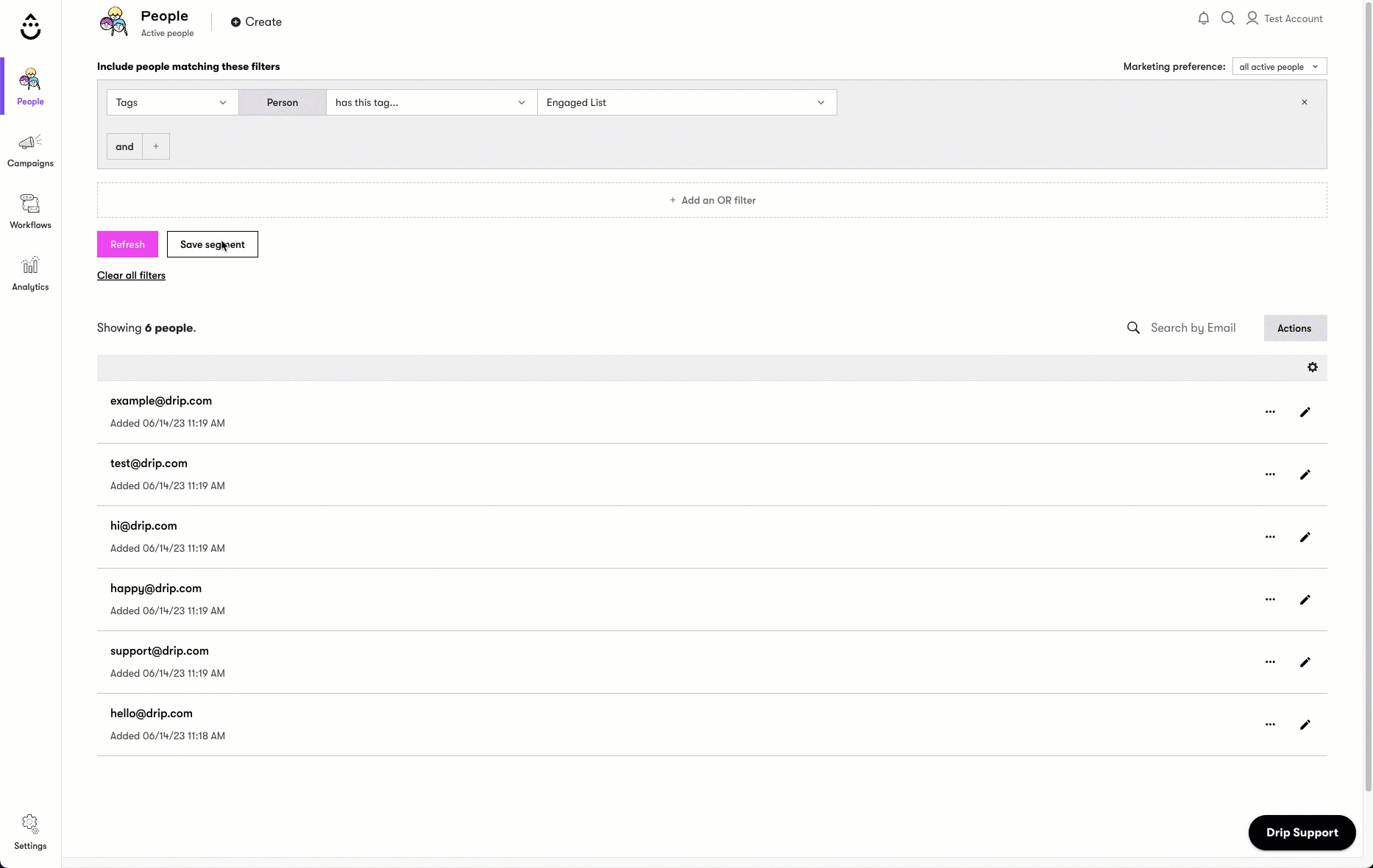 Now you are ready to reference your Saved Segments across Drip Campaigns and Automations!
Migrate your Automations with Drip Workflows
Looking to migrate existing automations from your previous platform? Similar to migrating email templates, opening up your previous automation in a separate window is a fantastic approach to getting acquainted with Drip's Workflow capabilities as you recreate them!
With your previous automation up as a reference:
Log into Drip in another tab and go to Workflows > Workflows
Click + Create on the top-left corner
Click New workflow from scratch
Get to know the ins and outs and fundamental components of creating your own Workflows with the help of Getting Started with Workflows.
We also recommend checking out our Workflow Templates by navigating to Workflows > Workflow Templates.
Learn more about some of our popular pre-built workflow (and install their templates) in these step-by-step guides: