Engage Customers with Top Selling Products
Top Selling Products lets you utilize the data from your store to market your best sellers to people through email. Making recommendations for your most popular items lets you engage with people by:
Introduce new customers to the most popular items in your store

Encourage post-purchase upsells

Create a sense of urgency, or "fear of missing out" on a great product
Use Top Selling Products with the following integrated ecommerce platforms: Shopify, BigCommerce, Magento, WooCommerce, and Drip's Shopper Activity API.
Create an Email with Top Selling Products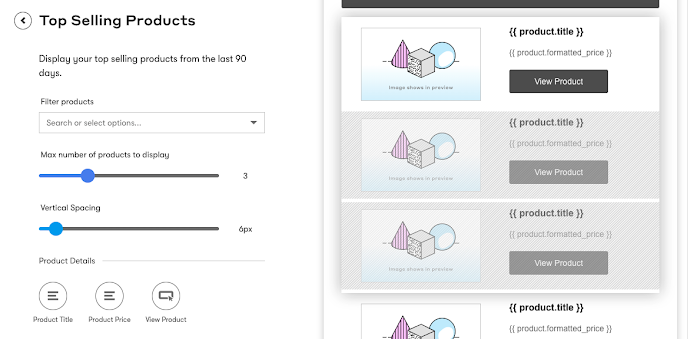 The Top Selling Products content block can be placed inside of any Workflow, Single Email Campaign, or Email Series Campaign built with the Visual Email Builder.
To add top-selling items to an email:
Create or open an existing email built with the Visual Email Builder.
Click Top Selling Products
Add the content block where you'd like it placed in the email.
Filter products based on Category
Add or delete Product Title, Product Price, or View Product content
Adjust the maximum number of products displayed
If no products appear when previewing or sending a test email, Drip does not have enough data to show any items. At least one order must have been placed in the last 90 days for content to show. In this case, the content block will be excluded from the email when sent.
Understand Top Selling Products
Products are shown based on the most unique orders over the past 90 days. The items from those orders are then ranked accordingly. For example, if five orders, each containing "Blue T-Shirt", were purchased in the past 90 days, and four orders, each with "Red T-Shirt", were purchased, you'd see "Blue T-Shirt" first and "Red T-Shirt" second.
To prevent repetitive recommendations, all products a person has purchased in the past will be excluded from Top Selling.
Products that are out of stock in your Shopify, BigCommerce and Magento store are not displayed.
If you use the Shopper Activity API, you will see any products that have been purchased or updated (i.e. placed in a cart). If you would like your full catalog synced, you'll need a developer to connect your store to the Product Activity endpoint.
If you use Shopify, a product must have its Inventory policy set to track and Allow customers to purchase this product when it's out of stock unchecked before Drip can monitor it. Y

ou can also exclude products from being displayed as top-selling items in Drip by adding a "Drip Do Not Recommend"

product collection

(Please note: This collection name is case-sensitive and must be applied with the correct capitalizations) in Shopify and add any products you don't want to recommend.
Track the Results
Marketing your top-selling products is a great way of increasing your revenue. Marketing your top-selling products is a great way of increasing your revenue. After you've sent out an email with top-selling products, view the dashboard for that email to keep track of how much revenue it's earning. Dashboards for Workflow, Single Email Campaign, and Email Series Campaign emails all keep track of the total revenue, average order value, and more.