You've spent countless days, months, and years building your email list. It's no walk in the park. And then, boom: Apple announces the iOS 15 changes.
Apple Mail users will soon have the ability to prevent you from determining if they open an email and if they're on a mobile device or desktop, as well as generate unique, single-use email addresses to keep their personal email address private.
If you're thinking 'what the heck am I supposed to do now?', know you aren't alone.
Nonetheless, your goal as a marketer remains the same: achieving high email deliverability is a top priority. With the impact of these changes somewhat unknown, now is a good time to get ahead on some best practices that will boost your deliverability.
First stop? Clean or prune your email list while your engagement data is fresh and accurate.
In this guide, we'll explain how continuing to email unengaged people can hurt your deliverability, and walk you through how to clean up your email list ahead of Apple's iOS 15 updates.
What Is Cleaning My List?
First, let's cover the basics. Cleaning your email list is the process of removing unengaged users from your email marketing list.
Just like a regular haircut keeps your locks healthy and happy, it's better to unsubscribe unengaged email subscribers than accumulate dead weight. The more unengaged users you email, the more likely your emails will bounce or go into the junk folder.
You should always practice good email hygiene, but the new Apple updates just around the corner create a new sense of urgency for email marketers.
Do this clean-up now while your data is accurate and before Apple Mail users have the ability to hide their email activity such as open, click-through, and viewing location.
Waiting could mean you unsubscribe people who are engaged but have chosen not to share their engagement data.
Why Should I Clean My List?
A lot of people think: "If someone hasn't opened in 3 months, there's still a slight chance they'll open later and make a purchase."
Yes, there is always a chance someone will begin to engage after an extended period of silence, but that chance is small and puts the health of your email marketing strategy at risk.
Continuously sending to people who don't open your emails increases the likelihood of your emails bouncing or being flagged as junk. And soon, your data won't give you a clear picture of how your emails are performing with engaged recipients, aka the ones you want to put your energy towards.
In short, not worth it. Plus, you can give people a chance to stick around before you make cuts—we'll get to that later.
Here are the top 3 reasons why you should clean your list:
To get ahead of the iOS 15 updates. Apple is going to make it easier for users to hide their email engagement data with you. Get ahead of the game and clean your list while you have accurate open data to use.
To have better deliverability. Email servers notice when people don't open or click on your emails. The more unengaged users you email, the more likely your emails will bounce or go in the junk folder.
To have more reliable email data. When you continue to email people who aren't opening your emails, your click rates and revenue per person drop. After you stop emailing those people, those numbers will rise and you'll see a clearer picture of how your emails are performing.
In the next section, we'll go over how to give someone the chance to reengage before you remove them from your marketing list.
How To Clean Your List
Before you unsubscribe anyone from your marketing email list, you should do everything in your power to help them re-engage (open or click your emails). This process is called "sunsetting" and we have a pre-built Sunset Workflow that makes the process seamless.
Before you dive in, we've taken care of a few things for you:
Workflow logic, emails, Delays, and a Goal. When someone completes the Goal (opens or clicks an email) they'll be removed from the Workflow and won't receive any more re-engagement emails from you.

An Unsubscribe from marketing emails action. When someone does not complete the Workflow Goal (open or click an email), they will be unsubscribed from marketing emails which means they cannot receive commercial emails but they can receive transactional emails, SMS, and submit forms. Read more about email preference in our guide.

Split the Workflow into 2 paths—one for customers and one for non-customers.

Email content to give you an idea of what you should include in your emails.

This workflow uses a Trigger called Entered a segment so when someone meets the criteria of that Segment, that person will enter the workflow.
Install the Sunset Workflow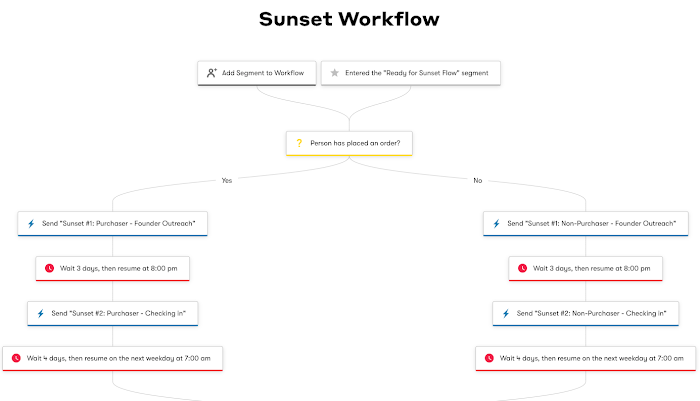 If you haven't already, install the Sunset Workflow into your Drip account.
Create Your Segment

In this Workflow, you'll target people who have received enough emails, in other words, they had an opportunity to engage, but they haven't engaged in any way in the past 90 days.
Create this Segment under People > Active > people subscribed to email marketing. Then, use the following criteria for your Segment:
Email inactivity (days) > Person has received, but not opened or clicked an email in the last 90 days >
AND
Emails not opened or clicked > Person has not opened or clicked any of their last 10 emails
Click Save Segment and name it Ready for Sunset Flow. Next, you'll select your Ready for Sunset Flow Segment in the Entered a Segment Trigger.
Select Your Segment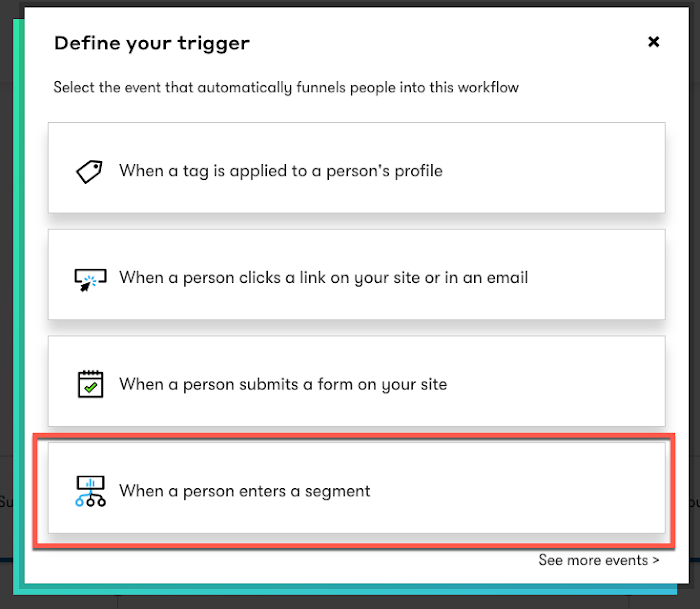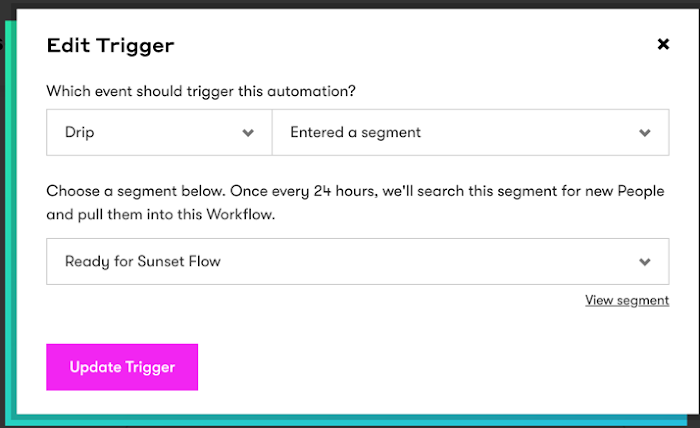 The "Entered a Segment" Trigger ensures that the Workflow will add people who meet the Segment criteria to the Workflow in the future. Select your Segment by:
Clicking on the Entered a segment Trigger

Use the dropdown menu to select Ready for Sunset Flow Segment

Click Update Trigger
People who meet the Ready for Sunset Flow Segment criteria moving forward will enter into the Workflow.
Create Your Emails
The Sunset Workflow comes with three emails, with 3-4 days of time delay in between. The emails are plain text or text-only emails. This might seem unconventional since you're used to colorful, beautiful visual emails.
Here's why we use text-only emails:
They act as a pattern-interrupt. Plain text emails get someone's attention precisely because the person is not expecting such an email from a brand.

They are more likely to land in the recipients' Primary inbox, bypassing the Promotions folder filters.

They feel much more personal and conversational. Ask a question and encourage responses in these emails, and people will reply. It's a win for relationship building and your email deliverability.
Add Your Existing "Ready for Sunset Flow" Segment To Your Workflow

Once you've written your emails and built your Segment, you're ready to turn on your Sunset Flow by toggling ON in the upper right-hand corner.
Lastly, Workflow Triggers are forward-facing, so the last step is to add everyone who is already part of your Ready for Sunset Flow Segment to your Unengaged Workflow:
At the top of your Workflow click Add Segment to Workflow (this option appears AFTER you turn ON the Workflow)

Select Ready for Sunset Flow Segment
This will push in all existing people in your Ready for Sunset Flow Segment. Let your Workflow run for a month or so, and check your Workflow Dashboard for results.
Great job! You're cleaning your email list, and keeping your deliverability high ahead of the upcoming iOS 15 changes.