The newsletter subscriber targeting option allows you to show or hide specific campaigns from your existing subscribers.
It's useful for hiding your newsletter campaigns from people who're already on your email list, and rewarding your subscribers with a discount code that's only visible to them.
For this condition to work, we need to be able to identify your subscribers. We do this in two ways:
When someone signs up through one of your Onsite campaigns, we place a cookie in their browser so we can recognize them as a subscriber.
To identify the rest of your email list as subscribers, you simply enable the default UTM code under Settings > Email setup > Google Analytics.



This will add ?utm_source=drip&utm_medium=email after the URLs you send in your emails. So when someone clicks one of your email links, we know that they're a subscriber.
To use the newsletter subscriber targeting option in a campaign, go to the Display Settings step in your Campaign Builder.
Switch the "Newsletter Subscriber" option on and specify whether you want to show or hide your campaign from existing subscribers.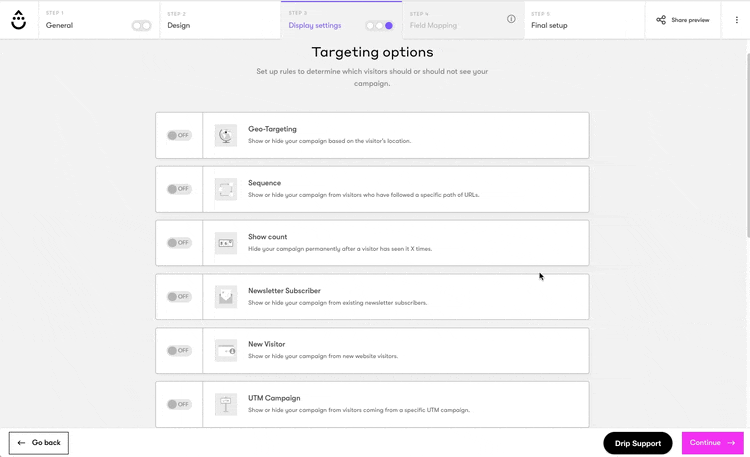 If you want to target another UTM code instead of ?utm_source=drip&utm_medium=email, you can add it here and click "Save changes."