Exit-intent trigger lets you show your campaign the exact moment a visitor is about to leave your website.
With the exit-intent trigger, you can capture abandoning visitors before they leave your site and turn them into subscribers, recommend them alternative products, or collect feedback on why they're leaving.
(In other words, it's perfect for reducing cart abandonment. 😉)
The logic behind exit-intent technology is simple. We trigger your campaign when your visitors move their mouse cursor towards the address bar in their browser.
⚠️ Important: Triggers apply once per session. When a visitor sees your campaign after moving their cursor to the address bar and closes it, your campaign won't pop up again in the same session (even if they repeat the action.)
You can enable the exit-intent trigger for your campaigns with one click.
Simply go to the Display Settings step in your Campaign Builder, and switch the exit-intent trigger on: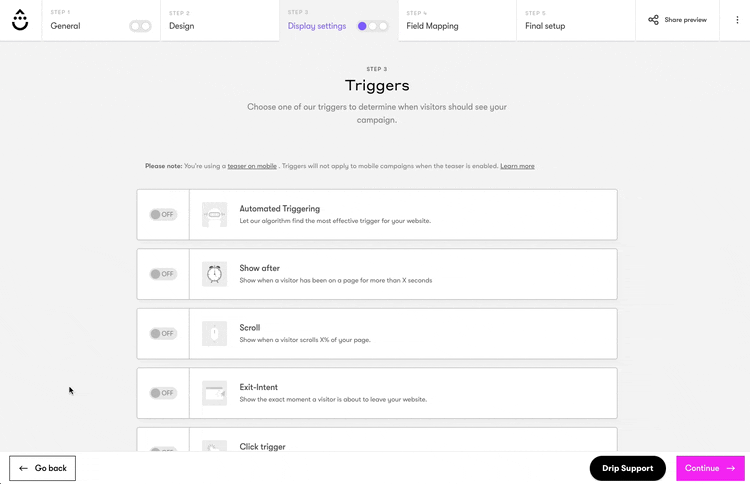 Use the same button to disable exit-intent, and choose a different trigger for your campaign.
Exit-Intent for Mobile Devices
Since the visitor intention to close a tab can't be detected the same way on mobile devices, the exit-intent trigger doesn't work on mobile campaigns.
Instead, we recommend you to enable your mobile teaser and give your visitors the option to open and close your campaigns. This ensures a better user experience on mobile and you don't risk getting punished by Google.