What is Sticky Bar?
The Sticky Bar is one of our campaign types, along with slide-ins, popups, and sidebars. Sticky Bars are typically placed on top or bottom of pages and they allow visitors to see your campaigns without hurting the browsing experience.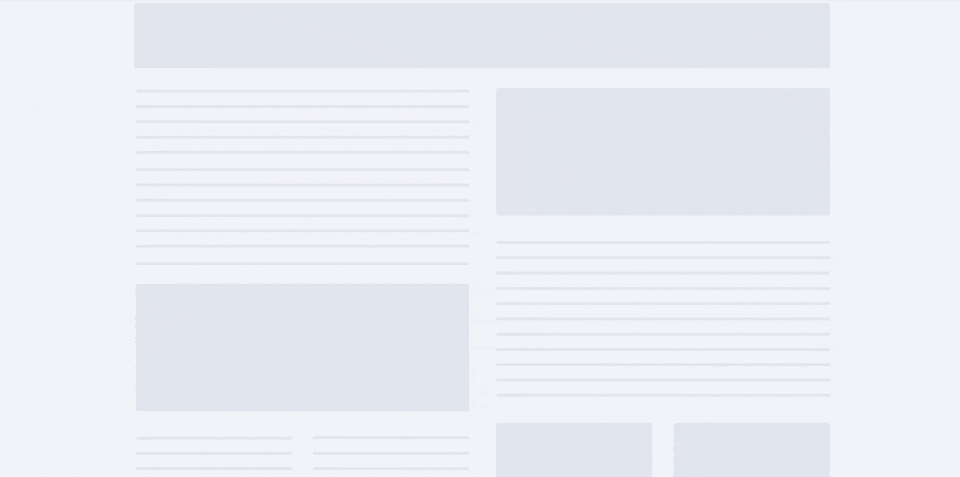 Sticky Bars are compatible with all campaign types and works both on desktop and mobile. It's ideal for announcing sales with a countdown timer, providing shipping information, or making service announcements—without taking up much screen space.
How to Create a Sticky Bar
Click the Bars tab during template selection and choose one of the Sticky Bar templates available. Sticky Bars are positioned on the top or bottom of your site. For bars positioned on the left or right side of your site, see Sidebars.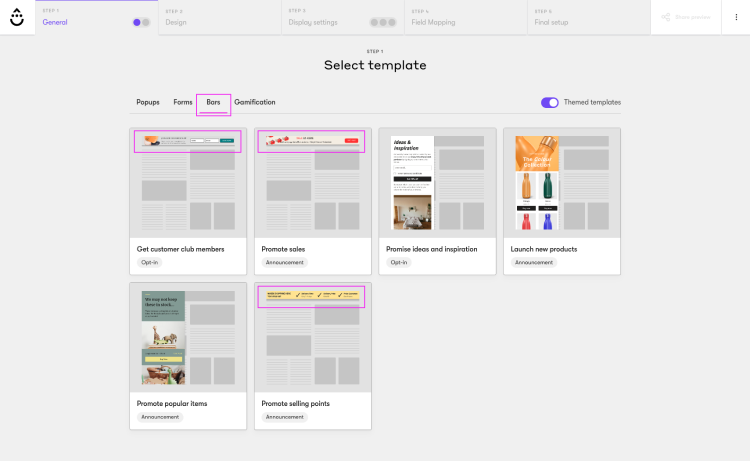 Click "Continue" and choose between the top and bottom positions for your Sticky Bar.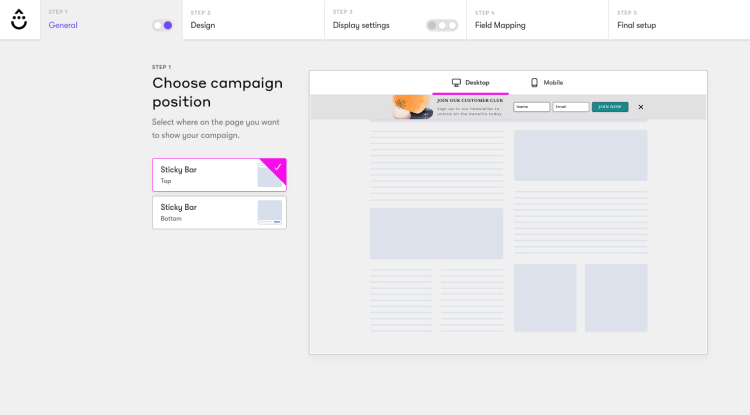 Now you can start designing your Sticky Bar. 👩‍🎨
Sticky Bars have two different display options. If you want to push your website content below a Sticky Bar, simply check off this box in the Design step:
This means that your Sticky Bar will sit on the very top of your website and won't cover your content.
If you don't select the push option, your Sticky Bar will overlay some of your website content.
How is Sticky Bar different?
Sticky Bar has certain features that are different from other campaign types. For example, a Sticky Bar doesn't have a teaser or any triggers. This means that your Sticky Bar will immediately show to your visitors.
Even though a Sticky Bar doesn't have a teaser, Sticky Bars that contain an email field (Collect Email Addresses) have the mobile toggler feature. The mobile toggler gives visitors the option to collapse or expand your Sticky Bar on mobile to ensure a better user experience.