Grab your favorite pumpkin spice-flavored drink and your holiday planning calendar. It's the busiest time of year for people who work in ecommerce… aka Black Friday Cyber Monday.
Screams internally.
If you're like us, you've been anticipating Black Friday Cyber Monday since, well, last Black Friday Cyber Monday. And now it's time to plan your holiday email series campaigns (yay!).
Between deciding on your offer, messaging, and timing you have a lot on your plate. If you haven't made it to the email design phase yet, don't sweat it.
Building emails takes precious time, and we've partnered with ecommerce influencer and agency owner Connor Dimond to help you make the most of your holiday season.
In this guide, get the rundown on the strategy Dimond and his team use with their clients, and email templates to help ease your planning (and capture more sales) this holiday season.
All of the email templates mentioned in this guide can be found inside of your account under Campaigns > Email Templates.
The Pre-Black Friday Cyber Monday Email Template
In the 30-60 days leading up to Black Friday Cyber Monday weekend, Dimond and his team have seen that with their clients, sending mainly content-focused emails instead of sales-focused emails works well.
"Get your audience to fall in love with you because of your identity, your values, and the products/ content you create. Not because you give them 15% off every week," says Dimond.
Then, you can really get your audience pumped about BFCM—and the upcoming deals— by sending a teaser a week or two before Black Friday.
The Black Friday Email Template
Now what we've all been waiting for: Black Friday. Dimond and his team say keeping the offer and CTA clear and concise is key. Think about how many emails you receive on Black Friday. If the offer and CTA aren't obvious right away, it's on to the next.
Stressed about standing out in the inbox? You're not alone. This year their agency is planning to start sending Black Friday Cyber Monday emails before the actual week so they're not fighting for space in the inbox.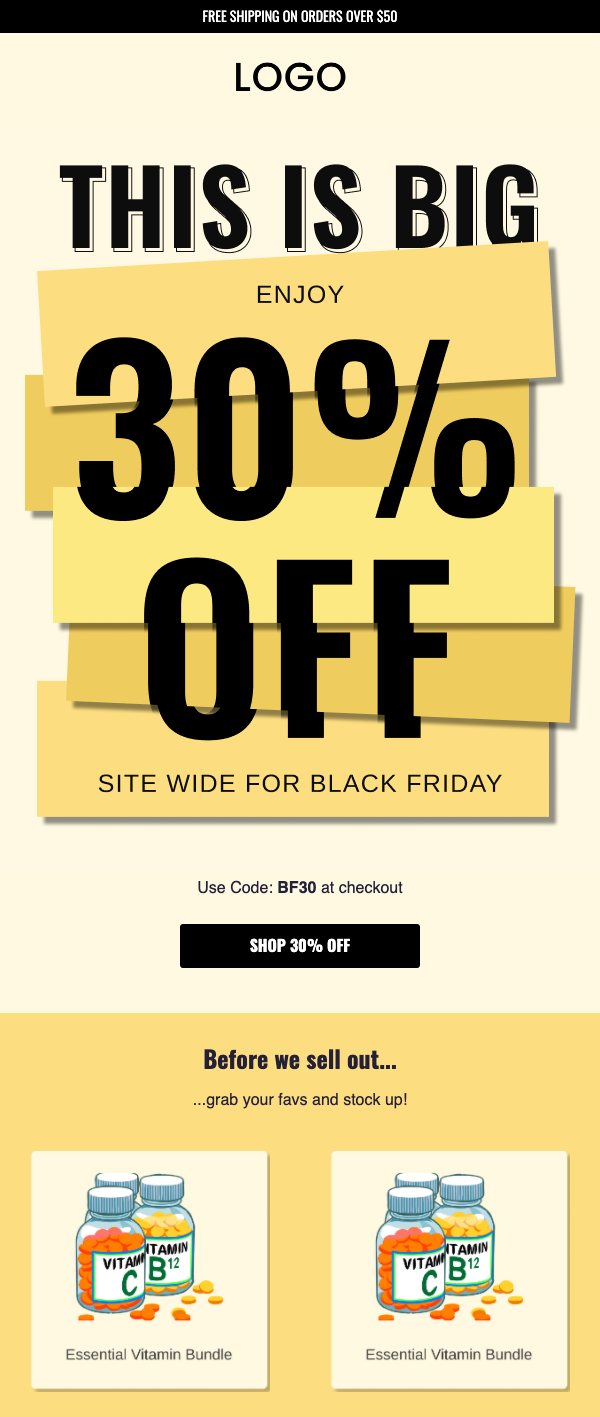 The Cyber Monday Email Template
Last but not least: your Cyber Monday email. Here are our best tips for Cyber Monday:
Switch up your promotions between Black Friday and Cyber Monday to keep shoppers coming back.

Create a sense of urgency in your subject line and email content to drive more conversions.

Keep your offer and messaging clear and simple.