SMS is currently unavailable to new users. To be notified when it's available, please reach out to our support team.
SMS Billing
Drip has simple, transparent tiered pricing for SMS, starting at $39/month. You can find the various pricing tiers on your billing page and see a sample of the SMS billing tiers in the below table- reach out to Support with any additional questions. Unlike some of our competitors, we don't pass on any carrier fees or hidden fees onto your bill. You will start at a billing tier during each billing cycle, and as your SMS list grows and your message volume increases, your tiered monthly price will adjust accordingly. It should feel similar to how you pay for email on Drip.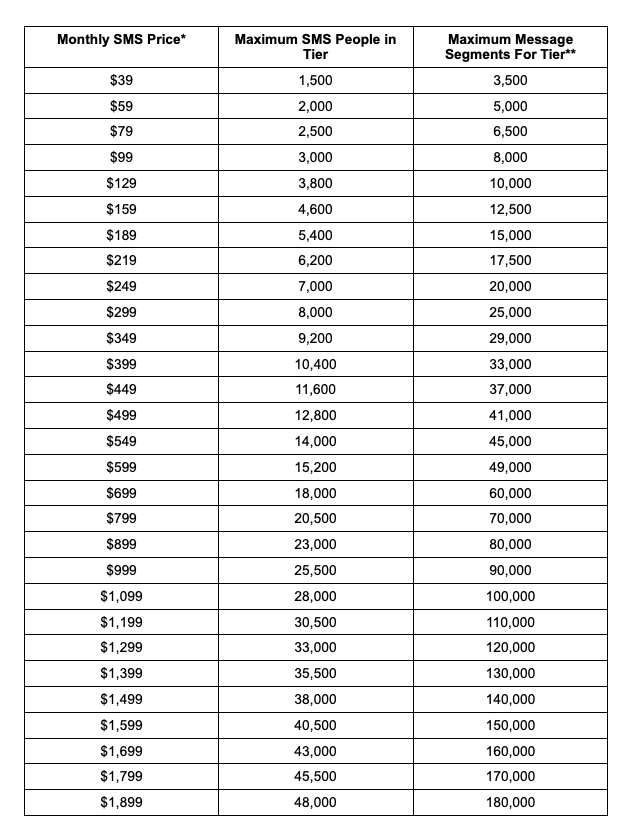 Your SMS Message Count
The number of allotted SMS messages within your tier represents the amount of SMS messages you can send to your subscribers before you move up a tier. An emoji counts as 3 characters. We don't automatically charge you for an MMS message just because you want to add a little flair to your SMS marketing.
Here are the basics of what you can expect from Drip:
A text-only message containing 160 characters or less counts as 1 message against your tier allotment.

For text messages over 160 characters, they are split into message segments of 153-160 characters each.

This is done by the major mobile carriers to help messages get delivered faster across their networks:
| | | | |
| --- | --- | --- | --- |
| 1 Message Segment | 2 Message Segments | 3 Message Segments | MMS |
| Text-only | Text-only | Text-only | Picture message |
| Up to 160 characters | 161 - 306 characters | 307 - 459 characters | Counts as 3 messages |
*Emojis used count as 3 characters each
Drip Pro-Tip - If you are building an SMS message and you see it is 460 characters or longer, you should either:
Try to shorten your message copy

Add a picture and send it as an MMS

This will save you on message allotment while also delivering better overall results for your marketing efforts
Your SMS Sending Number
Your local sending number is where all of your texts will come from. This is the number you obtained during your SMS Setup. Drip does not charge you to have an SMS sending number.
For most users, you will only need to use one SMS sending number to reach your audience. This is considered best practice with the major mobile networks. Once you can send 3,000 messages in one day, Drip will alert you to register as an A2P 10DLC user, which will greatly increase your SMS throughput.
Drip Pro-Tip: Create a contact card during your SMS Setup so your SMS users save your information for future communications. Your contact card will count as an MMS for billing purposes, so you will likely want to limit sending this in your Welcome or Onboarding SMS Campaigns.
How often should I send SMS campaigns? Will I go over my tier sending message limits often?
Our SMS billing tiers are designed to be guardrails to help ensure that your account stays within the sending frequency of best practices. The ratio of SMS subscribers to message allotment within our tiers scales as your list grows to accommodate more sophisticated segmentation and workflows.
Outside of the Black Friday and Cyber Monday period, your tiers should be increasing based on reaching SMS subscriber limits vs message sending limits.
We recommend sending no more than 4 SMS campaign blasts per month. In addition, we recommend activating an SMS welcome workflow so that users receive a customized, relevant message once they sign up for your SMS marketing. SMS campaigns can add value, but smart SMS automations will drive a lot of your revenue while keeping your sending volume at a reasonable level.