What is a Custom Sending Domain?
Custom Sending Domains authenticate your email sending with your own domain so emails are no longer sent as "via Drip.com" in the byline. This allows your emails to be better tracked for reputation and deliverability purposes, and will help you have more control over how your emails are received.
By setting up a Custom Sending Domain, you are giving Drip permission to send on your behalf via a set of DNS records that you will need to place on your Websites DNS settings. These records do not give us any additional access to your domain, but allows inboxes to check your records that Drip does indeed have permission to send emails for you.
Additionally, these records will not require any updates and will last as long as you send with Drip, so long as they aren't changed or deleted. Lastly, you are welcome to revoke and delete your Custom Sending Domain at any time, though we recommend verifying with the Deliverability team, which can be reached via support@drip.com, before doing so.
Why should you set one up?
There are several beneficial reasons for setting a Custom Sending Domain, but the primary one is if you are having inbox or spam placement issues. When it comes to reputation recovery, setting up a CSD is one of the very first steps we recommend as it will enable you to begin measuring your email reputation, and then to take steps to fix it. Even if you aren't facing reputation issues, setting one up is a great preventative measure that can help develop your sending reputation and help avoid the spam folder!
In addition to this, there are some more stringent and secure networks, such as businesses and certain internet providers, that may not allow unauthenticated mailing in order to prevent spam reaching their users. As more and more places adopt these standards, it is helpful to be ahead of the game even if your emails are landing fine right now.
DMARC Requires A Custom Sending Domain
DMARC is a fantastic security measure for protecting your domain from being spoofed, but when DMARC is involved, you must absolutely setup a Custom Sending Domain. Any emails sent with Drip will automatically fail your DMARC policy check, resulting in your emails ending up in spam or being flat out rejected from reaching the recipients.
If you are unsure what DMARC is or if you have it setup, check out our article about DMARC here.
How to Set Up Your Custom Sending Domain
Sending emails through a custom domain gives you a better chance of reaching the inbox.
To change your sending domain:
Go to Settings > Email Setup
Click Sending Domain
Click Change Sending Domain
Choose the custom domain you'd like to use for sending emails
Click Next
Verify your domain by installing the CNAME records given by Drip to your domain's DNS settings
Click I've added these records
Drip then checks for the CNAME records
Helpful documentation for the most commonly used DNS providers:
You will need to "gray-cloud" the subdomains we provide to you during setup since they will not be handling web traffic.
CNAME records may take up to 24 - 48 hours to register with your DNS provider.
GoDaddy Users
When configuring your CNAMEs, GoDaddy automatically appends your domain name to the records. For the domain of "yoursite.com" only enter the first part of the records for all three records as follows:
Instead of drip.yoursite.com enter only "drip."
Instead of s1._domainkey.yoursite.com enter only "s1._domainkey."
Instead of s2._domainkey.yoursite.com enter only "s2._domainkey."
Unsupported Domain Registrars
Some domain registrars such as Shopify don't support the use of underscores for CNAME configuration. Or, if you're using a provider such as SendGrid which does not allow modification to built-in CNAME records, you'll need to implement TXT records as a workaround.
You can contact our support team and request for TXT records to be generated in your account.
Once we've responded back to you through email that we've generated the records in your account, complete the setup of your custom domain as follows:
Look up the TXT record for the s1 and s2 domain keys listed on the Custom Sending Domain verification page in your account.
You can do this by running a command with the following syntax in Terminal, PuTTY, or similar client: host -t txt <insert domainkey domain here, e.g. s1.domainkey.u1234567.00000.sendgrid.net>
Instead of creating CNAME records in your domain registrar's DNS settings, set up TXT records. There will be two of them, and each will look similar to the following records:
Name: s1._domainkey
Value: k=rsa; t=s; p=<long string as provided in the output of the previous 'host' command>
What to do once you have this setup and verified
Once you have this setup, the next step would be to test your sending by creating or duplicating an email and emailing it to yourself as the only recipient. After that, you should notice your "from" address in the email header now looks like this: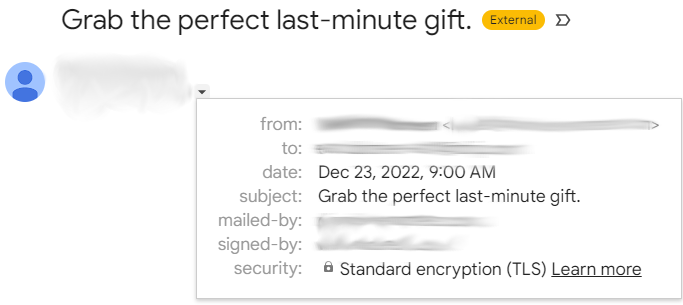 If you see an additional tag of "via dripemail2.com" then there may be an issue with your setup that needs attention and we recommend reaching out to our support team via support@drip.com to help troubleshoot.
This would look something like the screenshot below:

What do you do if you have multiple accounts that use the same domain?
Normally, you cannot set up multiple accounts to send with the same verified domain, as you cannot add the CNAME records to your site multiple times, but if you have multiple accounts that utilize the same from email (such as the same brand but in multiple countries/languages) we can assist with this. Please reach out to our support team via support@drip.com and let us know which accounts you need to link and we can set this up on the back end.