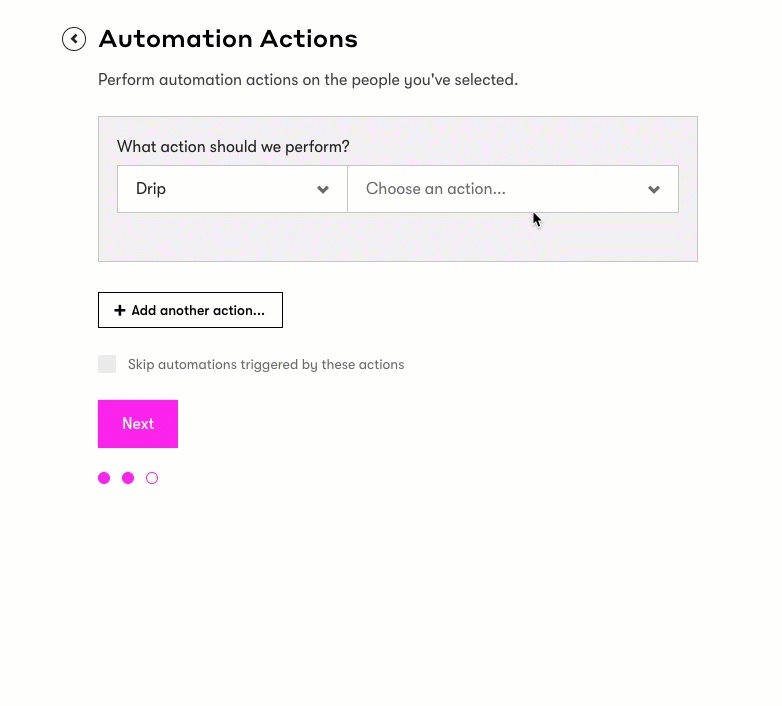 Perform automation actions on the people you've selected. Skip this step to just import a list of people. To select automation actions:
Go to People > Bulk Operations
Click + New Operation
Select how you'd like to perform the action
Click Next
Choose an action from the drop-down
Click + Add another action to add multiple actions
Toggle on Skip automations triggered by these actions to prevent people in the operation from triggering any Rules or Workflows in Drip


Important Note: This will not prevent people from being triggered with the Subscribed to email marketing or Subscriber created events if they are new to your account and you are using these triggers in rules and/or workflows.

Click Next > Perform Operation
Click Done to exit the page and view the progress of the operation, or click Cancel this Operation to cancel the operation
You have 30 seconds to cancel an operation once it's been scheduled. After that, operations cannot be canceled or reversed.
You'll be redirected to the Bulk Operations page where you can see the progress of your operation. The operation will show as pending while it's processing, and once completed it can be found under Complete Bulk Operations.
You can prevent automations from triggering when the following actions are applied:
Apply a tag to a person's profile
Remove a tag from a person
Set a primary or custom field value on a person's profile