SMS is currently unavailable to new users.
Segment by SMS engagement, consent status, SMS specific events, and learn about the SMS Activity tab in the People Profile.
Segment by SMS Engagement

Segment people based on who has or has not received or clicked on an SMS/MMS. Understand who is engaging with your texts, so you can spend your SMS dollars on the right people.
Go to the People page and select Automation SMS or SMS Campaigns to see if a person has received or clicked a message.
Segment by SMS Consent Status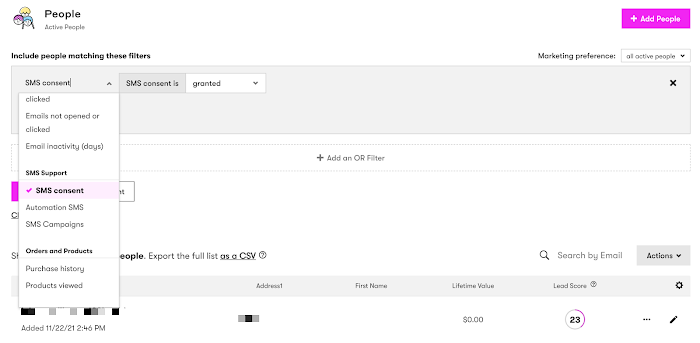 See people that are subscribed to SMS on the People page and filter for SMS Consent Is Granted.
Segment for SMS Events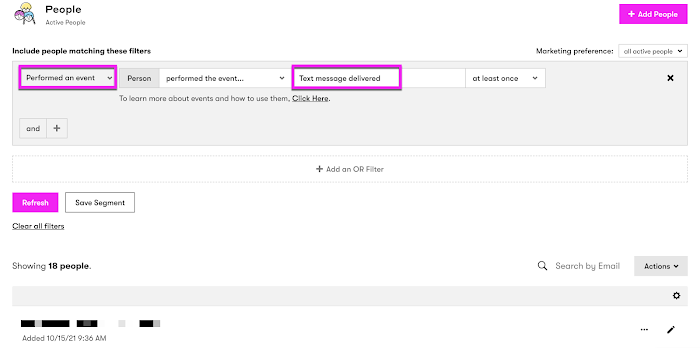 You can also filter for the people who have performed certain events by using the filter Performed an Event and typing in the name of one of these events:
Text message delivered
Text message bounced
Text message clicked
Text message canceled
Text message skipped
Text message failed
Opted into SMS
Opted out of SMS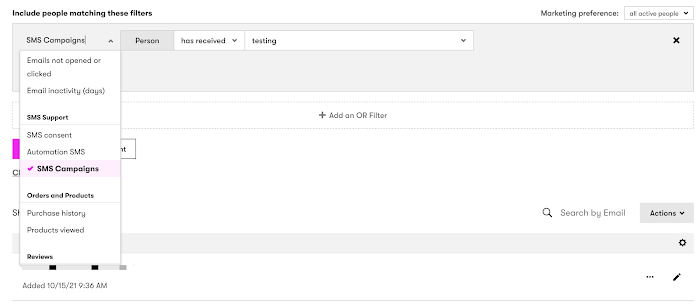 Additionally, you can now filter by SMS campaigns and Automation SMS!
We will be adding more ways to filter and segment your people in the future!
People Profile
New SMS field and Timeline

A person's opt-in status and SMS number are displayed on their Profile. View someone's Profile by clicking on a person's email address, and their opt-in status is listed at the top of the page.
You will also see an SMS row on the person's timeline. By hovering over the dot, Drip shows activity around messages sent on a specific day including:
The SMS name
The workflow name
"Received" if it was received but not clicked on
"Clicked" once it is clicked on
SMS Activity Timeline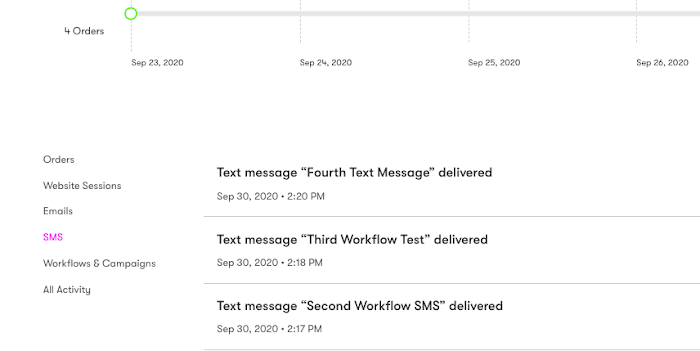 View details for specific SMS messages in the SMS tab on the left side of a person's profile. For each of your sent SMS messages, you can view:
Each message sent
If the person clicked a link in the message
If an order was attributed to the message
Activity Timeline

View more granular SMS details in the All Activity timeline on the bottom half of a person's profile. You can view when a person:
Submitted SMS Number
Text message delivered
Text message bounced
Text message clicked
Text message canceled
Text message skipped
Text message failed
Opted into SMS
Opted out of SMS