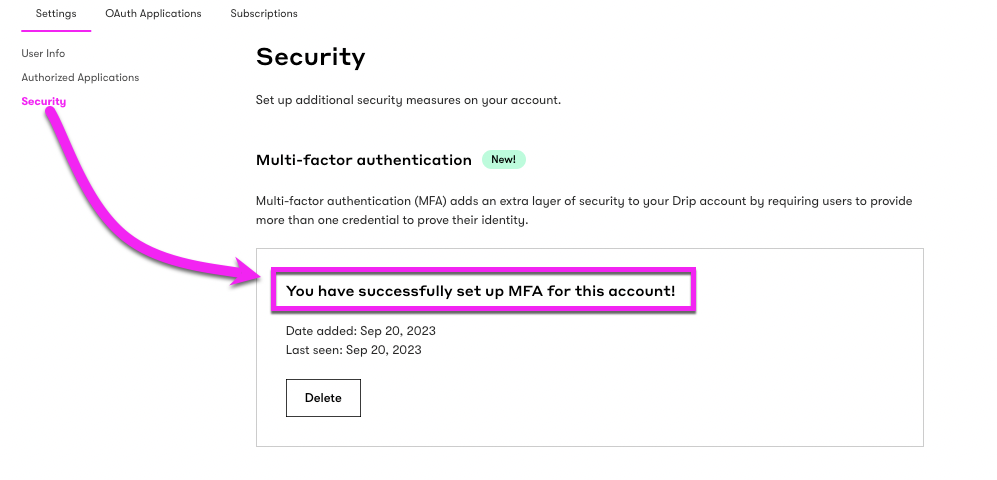 Just like adding a couple of extra locks onto your door, add an extra layer of security to your Drip Account by enabling Multi-factor authentication (MFA). MFA helps prevent data breaches by verifying the identity of a user anytime they log in to ensure it's really them.
Enable Device
Navigate to Settings > User Settings > Security
Click on Add a device

to automatically send an Enrollment Link to your user email address. You should find a confirmation that the link was sent at the top of the page:

In the email, you'll find the link to Enroll in multifactor authentication

Single Use Alert: Please be aware that this link can only be used once. Once it is clicked, you will not be able to open the link on another device and you will need to generate a new enrollment link.

Scan the QR Code using your preferred Authenticator app and enter the One-time code provided by the Authenticator app:
Important: On the following page, you'll be shown your Recovery Code. This code serves as a backup for accessing your account without your authenticator device. Once you have secured this unique code, please confirm by checking the box for " I have safely recorded this code" and continue:

That's it! You are all set and ready to begin using Multifactor Authentication.
Delete Device
Should you like to remove the MFA requirement or change the Authentication, simply Delete the device as shown here: